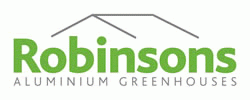 This exciting new octagonal greenhouse from Robinsons is superbly designed, and will make a real feature in your garden. However, it's not just good looking, it's extremely practical and makes an ideal growing environment.With conventional rectangular greenhouses, up to one third of your total floor space can be 'wasted' on a path. With Octagonal design, you have a standing area in the middle and staging all around - making the most efficient use of the space available.
The Renaissance is made using strong box section corner bars on the sides. These chunky sections are extremely strong as well as giving the greenhouse 'clean lines'This model has good eaves and door heights .
Many Octagonal greenhouses on the market are quite low at the eaves and consequently, they tend to have low doors.
These Renaissance models have full 6'2" high doors giving you easier access and more headroom for you crops and shelving.

More included as standard: As a package these Robinsons Renaissance models are extremely good value for money. They include a long list of items which are add-on costs on other greenhouse such as toughened glass, green finish, staging all around and two high level side shelves. Plus guttering & downpipes.

The little double doors have a lock and glide open beautifully. On this 6x6 model - please make sure that you have enough space on your level base such as paving slabs to support the lower door track.
A = Base width: 1,714mm (5ft7).
B = Length: 1,714mm (5ft7).
C = Eaves height: 1,945mm (6ft4).
D = Ridge height: 2,630mm (8ft7).
E = Door width: 600mm (1ft11).
F = Door height: 1,870mm (6ft1).
Q. Could you please give me an estimate to build the greenhouse and fit to site.
A. Installation onto a pre-prepared base would be approximately £300-£350. However all of the installers are independent so the price will vary.
* required fields
Delivery of this greenhouse to Mainland England and Wales is FREE, parts of Scotland may be subject to a small charge. Delivery costs will be calculated and displayed at checkout before any payment is required

You will be contacted with a delivery date when your greenhouse is ready. This greenhouse is delivered straight from the factory on dedicated transport.

Please write in the comments box at checkout any dates (holidays etc.) you would like us to avoid.

Delivery to Northern Ireland may take longer.