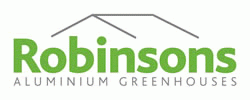 There is only one of these greenhouses to clear. This greenhouse is a combination of a 2013 and 2014 model. This means that some bars are an 'I-Beam' profile, some are a 'Box-profile'. To the untrained eye, the difference is not obvious. The diffrent bars in no way affect the strength of the greenhouse and make no difference to the way the greenhouse is constructed. If you want a top quality lean to greenhouse for half the price, this is the greenhouse to buy.
This new model is made with all the top quality Robinsons extrusions, giving a superior finish and strength. All the glass is held in with PVC bar capping which gives superior wind strength and a neat finish (no unsightly clips).This model is made with a lower pitch to the roof than the 5'4" deep lean-to, and so consequently has a lower ridge height of 7'10 1/2" - Ideal if your height is limited.
The quality of the Robinsons is well known and small finishing touches - like the quality of the door and the neatness of the covers and cappings- set it apart from other makes. You can put the door on either end or on the front.
A = Base width: 1,952mm (6ft4).
B = Length: 3,252mm (10ft8).
C = Eaves height: 1,820mm (5ft11).
D = Ridge height: 2,400mm (7ft10).
E = Door width: 600mm (1ft11).
F = Door height: 1,820mm (5ft11).
Delivery of greenhouses to Mainland England and Wales is £39, parts of Scotland and Northern Ireland cost more. Delivery costs will be calculated and displayed at checkout before any payment is required

We will call you before delivering your greenhouse, normally a week before delivery with an exact date of when we propose to deliver. We never deliver without the consent of the customer.

Please write in the comments box at checkout any dates (holidays etc.) you would like us to avoid.

This greenhouse is delivered by us with own drivers and vehicles to ensure your greenhouse arrives in perfect condition. Delivery to Northern Ireland may take longer.