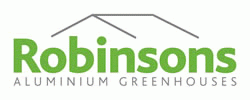 This 10'6" wide model is a unique shape with a ¾ span style roof. The idea behind this design is so that you can have one side higher than the other – high enough to position a door on the high side of the greenhouse.
If you have a 20ft wide gap at the bottom of the garden but you need to access it from the long side, then this model is ideal. As with other Robinsons models, you can add the Victorian ridge crestings and finials to enhance the design of your greenhouse.
The famous Robinsons box section glazing bars are far stronger than other greenhouses and the box section gives a neat and clean finish to the inside of the greenhouse. 4mm toughened safety glass throughout is held in solidly by the Robinsons low-profile glazing system – PVC full length cappings screw into the glazing bars with stainless steel screws to securely clamp the glass in to place.
The doors can positioned on either end or on the high side.
A = Base width: 3,208mm (10ft6).
B = Length: 5,112mm (16ft9).
C = Eaves height: 1,692mm (5ft6).
D = Ridge height: 2,702mm (8ft10).
E = Door width: 1,200mm (3ft11).
F = Door height: 1,870mm (6ft1).
Delivery of this greenhouse to Mainland England and Wales is FREE, parts of Scotland may be subject to a small charge. Delivery costs will be calculated and displayed at checkout before any payment is required

You will be contacted with a delivery date when your greenhouse is ready. This greenhouse is delivered straight from the factory on dedicated transport.

Please write in the comments box at checkout any dates (holidays etc.) you would like us to avoid.

Delivery to Northern Ireland may take longer.