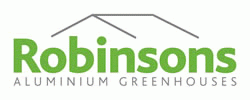 These superb greenhouses have been designed for everyone from the enthusiastic amateur to the professional nurseryman. Robinsons Rosette greenhouses are 10' 7" (3226mm) wide and available in various lengths. The width provides ample growing space and, with the central double doors, allows for up to 3' 1" (940mm) wide greenhouse staging to be positioned both sides of the greenhouse.
Position your doors on the side or end & fit extra shelving in .Extra hight eaves 6'6" give this greenhouse a fantastic atmosphere that gives you and your plants a whole foot of extra headroom over the standard height Rosette model.
This extra height means that you can position your doors on the end or the side of the greenhouse.(End doors are standard.Side doors must be specified if required).You will also have room to place two high level shelves above your staging-considerably increasing your growing capacity.
A = Base width: 3,226mm (10ft7).
B = Length: 5,732mm (18ft9).
C = Eaves height: 1,980mm (6ft5).
D = Ridge height: 2,846mm (9ft4).
E = Door width: 1,210mm (3ft11).
F = Door height: 1,829mm (6ft).
Q. If i wanted to extend this greenhouse in the future, would this be easy to do?
A. Yes, extensions can be added to this greenhouse, normally these come as 6ft sections. The process is actually not that difficult and is a common request we have.
* required fields
Delivery of this greenhouse to Mainland England and Wales is FREE, parts of Scotland may be subject to a small charge. Delivery costs will be calculated and displayed at checkout before any payment is required

You will be contacted with a delivery date when your greenhouse is ready. This greenhouse is delivered straight from the factory on dedicated transport.

Please write in the comments box at checkout any dates (holidays etc.) you would like us to avoid.

Delivery to Northern Ireland may take longer.