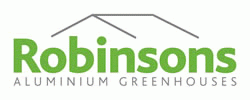 These superb greenhouses have been designed for everyone from the enthusiastic amateur to the professional nurseryman.
Robinsons Rosette greenhouses are 10' 7" (3226mm) wide and available in various lengths. By having a double span, and effectively joining two together with a special box valley gutter, you can get a width of over 21 feet. The width provides ample growing space and, the "Reach' element means that this greenhouse has extra high eaves of 6ft 6 inches.
The specially designed valley gutter is extremely strong made from thick double box section aluminium and you can even walk along it for maintenace purposes.
The Rosette Reach features a 6ft6 (1987mm) eaves height and a ground-level threshold, giving freedem of access for garden machinery and wheelbarrows. This doublespan model comes with one set of double doors which can be fitted into any one of the four gables.
Various different sizes can me made of this model - for example you can have any length in 2ft increments and you can even add more bays to make it triple-span or more
The Rosette greenhouse can be fitted with a fully glazed partition to provide a cost-saving propagating area, with a choice of either single or double doors.
A = Base width: 6,628mm (21ft8).
B = Length: 31,152mm (102ft2).
C = Eaves height: 1,987mm (6ft6).
D = Ridge height: 2,851mm (9ft4).
E = Door width: 1,200mm (3ft11).
F = Door height: 1,870mm (6ft1).
Q. If i wanted to extend this greenhouse in the future, would this be easy to do?
A. Yes, extensions can be added to this greenhouse, normally these come as 6ft sections. The process is actually not that difficult and is a common request we have.
* required fields
Delivery of this greenhouse to Mainland England and Wales is FREE, parts of Scotland may be subject to a small charge. Delivery costs will be calculated and displayed at checkout before any payment is required

You will be contacted with a delivery date when your greenhouse is ready. This greenhouse is delivered straight from the factory on dedicated transport.

Please write in the comments box at checkout any dates (holidays etc.) you would like us to avoid.

Delivery to Northern Ireland may take longer.