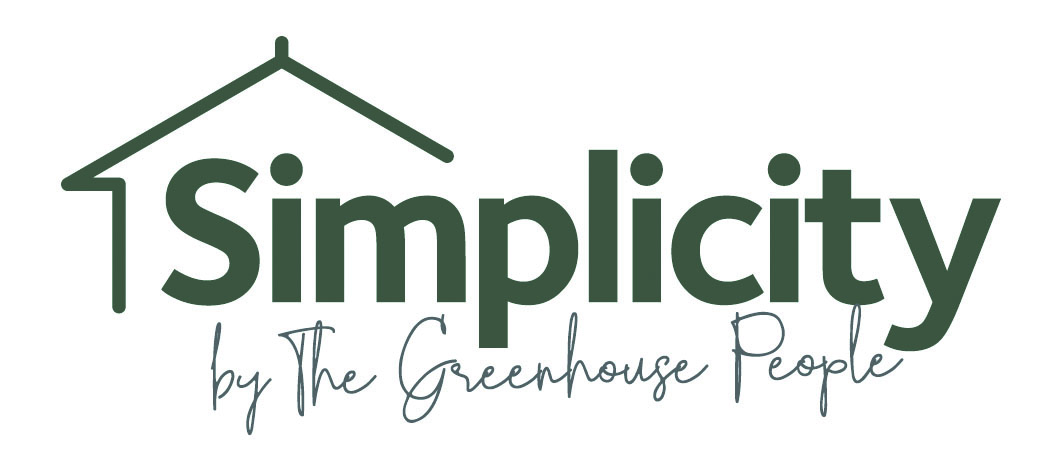 £895.50 with extra 10% off in our January Sale
Discount applied at checkout
This Simplicity SUN greenhouse is one of our best sellers, and rightly so, this greenhouse is good quality and designed to last. The gauge of the aluminium is the same as any other Simplicity building, and is as strong as any other greenhouse in the sub £1000 range. Hundreds have been sold, and has received more positive feedback than any other greenhouse.

The single door (an impressive 6'2" high) on this model means that you can make the best use of your space as you have 3' each side of the door which you can use for wider beds or wider staging- in a double door model, you often just end up with a wider path limiting growing space. In a 3' wide bed you could get two rows of Tomatoes or perhaps a run of tomatoes at the back and shorter peppers and chillies in front.  The Simplicity Sun comes with toughened safety glass throughout, held in with quality steel band clips.
**The accompanying image shows the greenhouse on an optional powder coated base.  The base of this SUN model comes in a mill finish as standard.**
A = Base width: 2,530mm (8ft3).
B = Length: 3,150mm (10ft4).
C = Eaves height: 1,312mm (4ft3).
D = Ridge height: 2,237mm (7ft4).
E = Door width: 628mm (2ft).
F = Door height: 1,880mm (6ft2).
All measurements include the base.
Q. Hello DO you erect greenhouses on site. I have already a concrete base Regards Jim
A. Anyone that orders a greenhouse from us receives a nationwide list of approved greenhouse fitters.
---
Q. Does this greenhouse come with the foam tape for the glazing?
A. Yes, the Simplicity Clearance LE 8x10 Greenhouse is supplied with foam tape for glazing.
---
Q. Are there hanging basket rails included
A. Hello, there aren't hanging baskets available on this greenhouse. You can however buy some 'L shaped brackets' which using a nut and bolt go into the roof glazing bars and you can hang baskets from this bracket. They are on the 'fixings' section on the spare parts on our website.
---
Q. hi. how can you secure door for night time thanks John
A. Hello, there isn't a door long on this greenhouse but i have known other customers drill a hole in the top door track and use a padlock to keep the door closed.
* required fields
68 reviews of Simplicity SUN
---
---
---
---
20/05/2019
by
Jeston BRIGHTMORE-ARMOUR
---
Delivery of this item to Mainland England and Wales is £39, parts of Scotland offshore may be subject to a higher charge. Delivery costs will be calculated and displayed at checkout before any payment is required

We will call you before delivering your greenhouse, normally a week before delivery with an exact date of when we propose to deliver, we never deliver without the consent of the customer.

This item is usually dispatched within 10 working days as standard if in stock (if out of stock we will email you), if you have added something to your basket with a longer delivery time, then this will dispatched at the same time as other items that you purchase. There is only one charge for deliver per order.